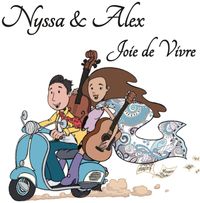 We are thrilled to announce the release of our new album,
Joie De Vivre
.
If you enjoyed our recordings in the past you'll love this one. We gained some quality microphones to improve the sound, Nyssa bought a beautiful Taylor guitar and Alex now has a lovely full sized German cello.  
12 popular covers and French hits and 2 gorgeous originals.    
We hope to see you at one of our gigs, and as always, thank you for supporting us and our music!   
Nyssa and Alex   xx